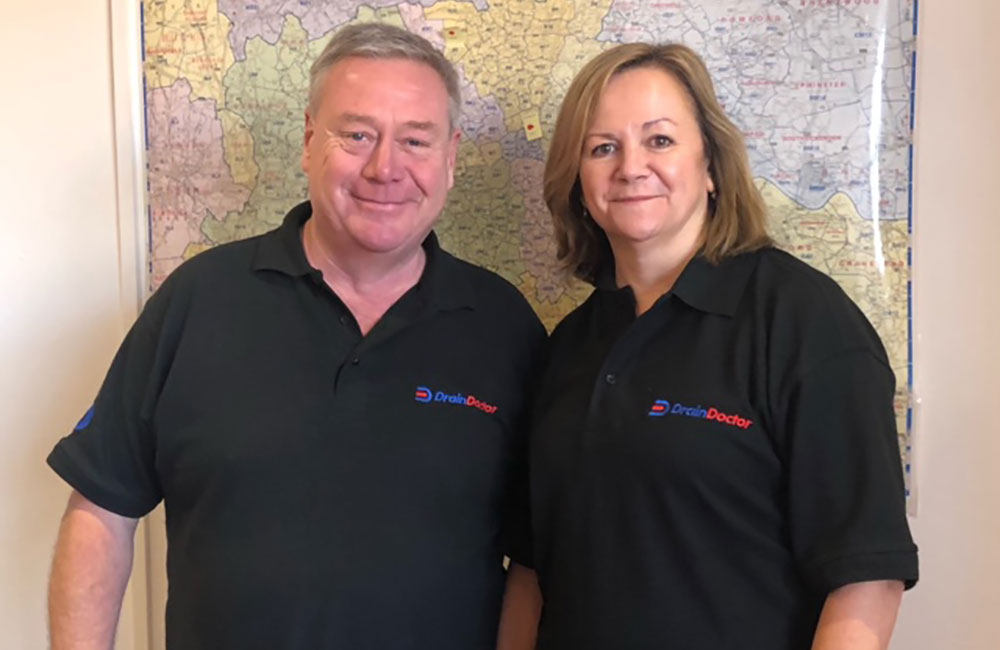 Drain Doctor's approach to business was in line with our thinking
Ian & Fiona were looking for a change. They both wanted a new challenge, the chance to earn a decent salary but most importantly, to be in charge of their own future.
Ian & Fiona Robinson
Drain Doctor London Central
Plumbing in the Streets of London! – Ian & Fiona Robinson enjoy the rewards of their London Based Drain Doctor Franchise…
Ian & Fiona Robinson started Drain Doctor London Central in 2011. Ian worked in the motor trade for 15 years but felt he needed a challenge and the chance to earn a decent salary! They both wanted a new career and wanted to be in charge of their own future.
Having been in the drainage industry since 2003, Drain Doctor was an easy choice "With previous drainage knowledge, Drain Doctor made sense and their approach to business was in line with our thinking. Provide an excellent and reliable service to customers."
Starting from scratch in a new franchise territory, Ian & Fiona have now reached an annual turnover of over £400,000 with 5 staff members in their team. When asked what they enjoyed most about owning a Drain Doctor business they said "Helping customers at their time of need, watching the business grow and learning from the network of franchisees. The ongoing training is always good to learn and refresh our knowledge and our franchise consultant is always on the end of the phone/email and tries to answer any questions thrown at him. If he doesn't know, he tries to find someone who does. The franchise also provides Networking opportunities, and the possibility to share customers."
As with any new business, starting up has been a huge learning curve for them both, but one they have taken in their stride. "Employing staff is a challenge that we have had to learn to deal with, as we have found that not everyone has the same work ethic that we do! We've learned to deal with all aspects of running a business – recruitment, accounting, marketing, H & S."
Despite the hard work the rewards have changed their life for the better. With the help of Drain Doctor, Ian & Fiona have paid off their mortgage, and bought themselves a jaguar. They also "enjoy travelling with our caravan, at home and abroad, and have a large garden that takes a lot of time to look good!" and they haven't just experienced financial success with one of their proudest moments being "receiving the President's Award in 2015 for growth. We had worked hard to increase our turnover (and profit!) and were pleased that this was recognised."
However, the hard work is far from over with Ian & Fiona looking to "Expand into new territories, with more technicians/vans, and a possible office move." Hopefully, they can achieve their long-term personal goal of buying an island next to Richard Branson and having a happy retirement!